26 September 2019
Dear Constituent,
It has been an enormous privilege to have served as the MP for Liverpool Wavertree for almost ten years. I cannot thank my constituents enough for the relationship we have built over the last decade and what we have achieved together.
Liverpool has been my home since 2010. I met my husband in Liverpool and our two children were born here.  During the challenges I have experienced over the past eighteen months, I have been so grateful for the support I have received from the people of Liverpool. I am immensely proud of the city and representing my constituents remains a huge privilege.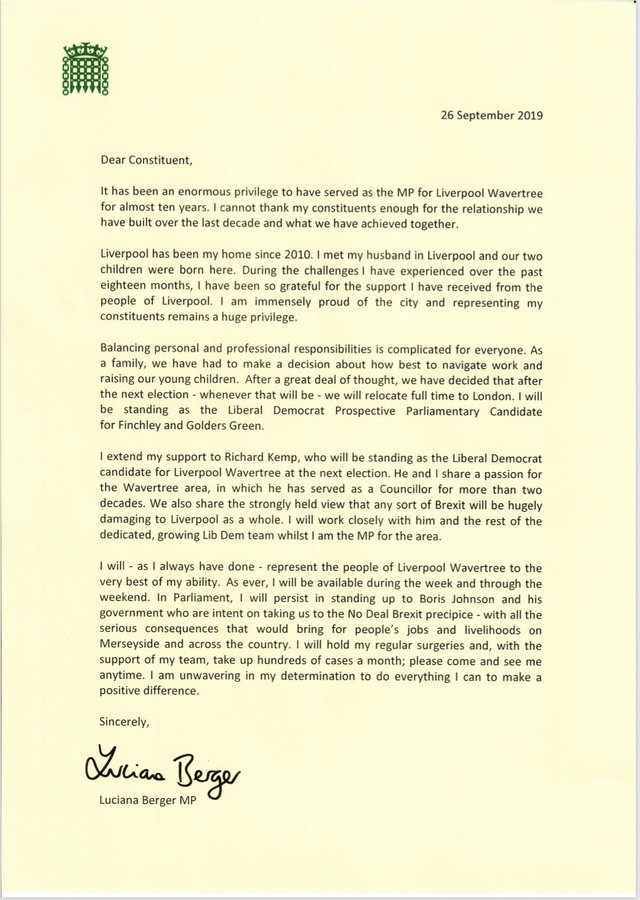 Balancing personal and professional responsibilities is complicated for everyone. As a family, we have had to make a decision about how best to navigate work and raising our young children.  After a great deal of thought, we have decided that after the next election – whenever that will be – we will relocate full time to London. I will be standing as the Liberal Democrat Prospective Parliamentary Candidate for Finchley and Golders Green.
I extend my support to Richard Kemp, who will be standing as the Liberal Democrat candidate for Liverpool Wavertree at the next election. He and I share a passion for the Wavertree area, in which he has served as a Councillor for more than two decades. We also share the strongly held view that any sort of Brexit will be hugely damaging to Liverpool as a whole. I will work closely with him and the rest of the dedicated, growing Lib Dem team whilst I am the MP for the area.
I will – as I always have done – represent the people of Liverpool Wavertree to the very best of my ability.  As ever, I will be available during the week and through the weekend. In Parliament, I will persist in standing up to Boris Johnson and his government who are intent on taking us to the No Deal Brexit precipice – with all the serious consequences that would bring for people's jobs and livelihoods on Merseyside and across the country. I will hold my regular surgeries and, with the support of my team, take up hundreds of cases a month; please come and see me anytime. I am unwavering in my determination to do everything I can to make a positive difference.
Sincerely,
Luciana Berger MP